Climbing in Istria, Kvarner and Gorski kotar | Croatia
Amazing climbing combined with the possibility to climb throughout the year, together with beautiful medieval cities, beaches and nature, makes Istria, Kvarner and Gorski kotar areas an excellent destination for all climbers. Istria, situated in westernmost part of Croatia, is the most popular and the most visited part of Croatia for climbing. Kvarner and Gorski kotar are located to the south and east of the Rijeka city and it includes climbing sites on islands of Krk and Cres, Gorski kotar area and northern part of the Velebit mountain. ISTRIA Istria offers you perfect limestone with grey slabs but also walls full filled with tufas. Bolting is mostly very good and some areas like Limski kanal are in process of rebolting. Bolting work was done by climbers from Austria, Italy and locals from Buzet, Pula, Pazin but from other cities like Zagreb too. Approaches to the crags are in general short and easy. Climbing in Istria can be divided in three main areas: Buzet: Situated in the northern part of Istria, Buzet has been the most popular climbing destination in Croatia, particularly in winter time. A climber can find here anything he wishes for: from vertical grey slabs to steep or overhanging walls and roofs full of tufas, from easy routes for beginners to those hard enough for the best climbers. The best part is that all climbing sites in this area (about ten of them) are located close to each other. Istrian seacoast: This area, located in the west coast of the Istrian peninsula, offers beautiful surroundings and vicinity of popular touristic destinations like Poreč, Rovinj and Umag. Climbing in this area is best during winter, but not restricted to that season only. Most of the climbing areas presented in these topos offer easier routes for beginners and recreational climbers (i.e. Ponte Porton, Rovinj), but some climbing areas offer hard routes for ambitious climbers (i.e. Dvigrad). Eastern coast: This area is located to the south of the Rijeka city and it comprises several very nice climbing sites. Most of them are good for climbing the whole year. We would emphasize the eastern coast of Istria because some great climbing sites are located there (i.e. Medveja). Regarding season, climbing in Istria is possible all year round. Most climbing spots are winter destinations but there are also some very good summer areas like part of Buzetski kanjon for example. Istria is very easy for traveling with good road connections. There is new highway ( part of it under further construction) which connects Istria with Italy, Slovenia and rest of the Europe. Istria is very peaceful area with nice small medieval cities making it ideal for the whole family even if everyone is not a climber. Regarding accommodation, Istria offers plenty of possibilities thanks to the tourism in the area. You can find several campsites and many private houses and rooms for rent. There's many small local restaurants offering very good local specialities. KVARNER AND GORSKI KOTAR When it comes to Kvarner and Gorski kotar, most of the climbing sites in this area are good for the whole year climbing. The Velebit mountain is a good choice for multi pitch lovers. Approaches are not too long and the area is peaceful and beautiful. Sector Golubinjak in Gorski kotar is a great option for warm summer days and it works great with children. On islands Krk and Cres you can find some very interesting climbing spots which work also during summer. Especially Portafortuna offers good conditions also in the warmest days. Lubenice on Cres is great for tufa lovers. Road connections are good. Golubinjak is close to the Rijeka Zagreb highway and the other spots are near Adriatic coast highway. There's good ferry lines connecting Cres with Krk island. These topos are made by Astroida team, Boris Čujić and Tomislav Nežmah, who are the authors of the official climbing guides of Croatia and Paklenica. Both of these printed guidebooks you can bought from http://www.paklenica-croatia.com/.
Istria topos
1796 routes in 31 crags
---
Photos
212 photos shared by 16 climbers
---
Travel info
Best season
Winter is best season but climbing possible throughout the year.
How to get there?
Good roads from other countries. Airports in Trieste, Ljubljana and Zagreb.
Where to sleep?
Plenty of options from campsites, hotels and AirBnB's.
Other activites
Visiting medieval cities, hiking, cycling...
---
Get Istria climbing guide to your smartphone
The most detailed climbing guide from Istria starting at €2.91 / month.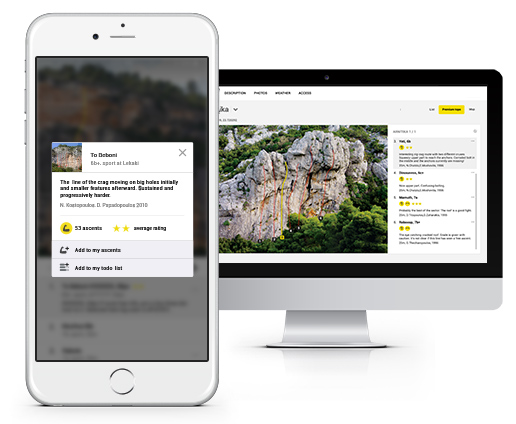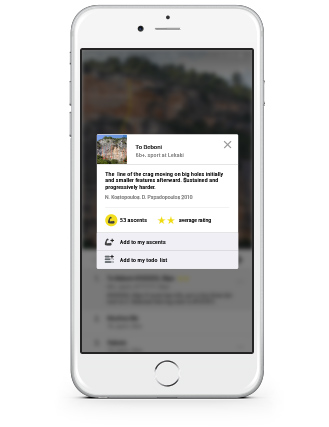 1796 climbing routes with high-quality topo images and detailed descriptions from Istria
The subscription also includes access to other 2833

Premium

crags around the world
Find crags and boulders with ease using in-app GPS
Use topos even when there's no Internet connection