Climbing in Athens
Looking for easily reachable world class climbing area that has still remained undiscovered? Or maybe you're interested in versatile routes on limestone and marble combined with possibility for city sightseeing and cultural activities? Look no further. Athens area offers more than 1000 single pitch bolted lines in more than 40 crags and new routes are constantly popping up. In addition there are 4 multi pitch walls with trad lines, plenty of bouldering and a lot of potential for deep water solo. Limestone in Athens comes in a surprising variety of shapes and colors and can create climbing wonders ranging from sheer desperate slabs to highly featured, tufa infested walls. Tufa climbing has a strong presence in the area. In fact, the city's best sport climbing crags can certainly rival those of Kalymnos' in tufa climbing goodness. Undisputed king among the tufa kingdoms of Athens is the lost world of Mavrosouvala, a totally otherworldly place in the middle of nowhere. The craziest thing about this majestic stalactite forest is that very few Athenians actually know about its existence. Tufas might be the hype of the era but the true uniqueness of Athens climbing certainly lies on its 2000+ year old man-made marble quarries where the ancient extraction scars are still visible. Apart from its antiquity, marble climbing is very unique in its climbing kinesiology, forming an exceptional mental and physical challenge. Despite its hardcore reputation, Athens has moved forward into being into a climbing destination for all tastes and skills. Many new crags boast a variety for easy routes for beginner climbers. These high quality topos are made by local climber Georgios Chaziris, who's the co-author of Athens Climbing Guidebook.
Athens topos
1484 routes in 42 crags
---
Photos
125 photos shared by 15 climbers
---
---
Travel info
Best season
Best season to climb is from October to April but climbing throughout the year is possible by choosing the right crag.
How to get there?
Best way to get there is to fly to Athens International Airport. Car is necessary for moving around since crags are spread around city's outskirts.
Where to sleep?
Athens offers tons of different accommodation types but if you wish to reach the crags easily it's best to stay in the northern suburbs.
Other activites
Plenty of sightseeing opportunities in Athens!
---
Get Athens climbing guide to your smartphone
The most detailed climbing guide from Athens starting at €2.91 / month.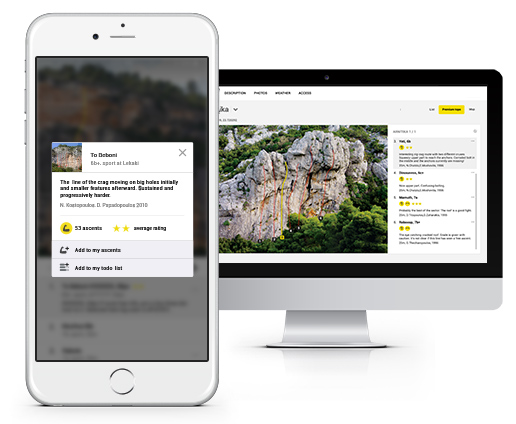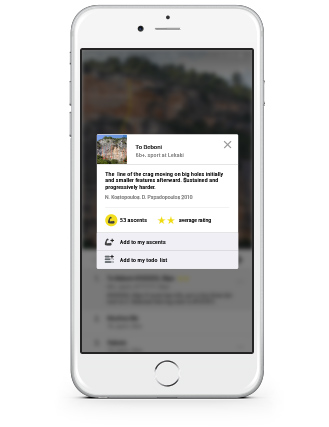 1484 climbing routes with high-quality topo images and detailed descriptions from Athens
The subscription also includes access to other 2918

Premium

crags around the world
Find crags and boulders with ease using in-app GPS
Use topos even when there's no Internet connection