Bouldering in Fontainebleau
Fontainebleau is the most popular bouldering destination in the world and a must visit place for every climber. Situated about 70 km South-East from Paris the climbing area consists of multiple different sectors located around the Fontainebleau village. 🧗‍♂️🧗‍♀️ Overall Fontainebleau (also known as "Font" or "Bleau") offers thousands of routes for different skills levels, so you're guaranteed to find something for everyone. The rock type is sandstone with mostly soft, flat and sandy landings. Easy and often short approaches and safe area makes it also perfect for families. The climbing itself is immensely technical and tiny footholds, balancy moves, sloupers and mantel top outs are all well represented. If you are an avid gym rat, be prepared for a surprise. Power takes you far, but it's not a substitute for technique and especially good foot technique is a must here. But no worries if you feel that your technique is not at its best - you'll learn it here! You can can also find roofs, jug hauls, dynos and such, if you know where to look for them. ☀️❄️ The best season to visit Font is from March to May and September to October. Climbing in winter is possible but the chance of rain and snow is rather high. Summer is usually too warm for climbing but if you don't mind climbing in high temperatures it's of course possible to find shady crags. Remember that it's completely forbidden to climb on wet sandstone as it breaks very easily! 🏠 When it comes to accommodation, there's plenty of options to choose from including hotels, "gites" and campsites. As the climbing is rather spread out, you might want to check the distance from the accommodation to the nearest sectors or to the ones you definitely want to visit during your trip. Below in the map you'll find examples of great climber friendly accommodations situated very close to the boulder areas. 💪 These topos in 27 Crags offer the most complete guidebook of Fontainebleau there is. Besides all the route information, the constantly growing 27 Crags Premium topos have GPS coordinates for each boulder and offline use in the app. These guarantee you won't get lost while navigating to the right rock and that bad internet connection won't stop you browsing the topos!
Fontainebleau topos
28300 routes in 142 crags
---
Photos
416 photos shared by 114 climbers
---
---
Travel info
Best season
September-October and April-May the temperatures are normally pleasant but not too hot. During easter Font is packed.
How to get there?
Usually people arrive by plane either to Charles de Gaulle or Orly. From there it's easy to rent a car and drive to your accommodation.
Where to sleep?
In Font you can find an accommodation for every taste. A "gite" is a stone build apartment or house which you can share with a group of friends.
Other activites
Activities in the Font forests include things like hiking, biking, horseback riding, running, orienteering, picnics etc.
Recommended services in Fontainebleau
---
Get Fontainebleau climbing guide to your smartphone
The most detailed climbing guide from Fontainebleau starting at €2.91 / month.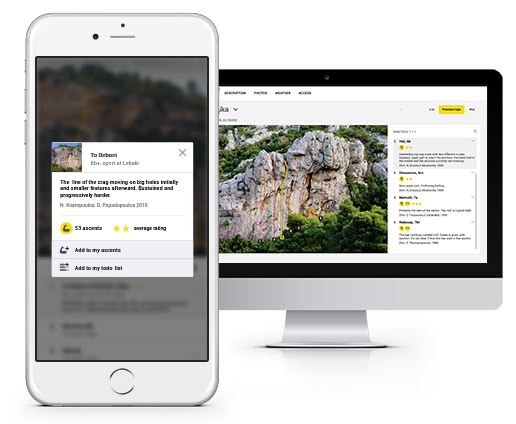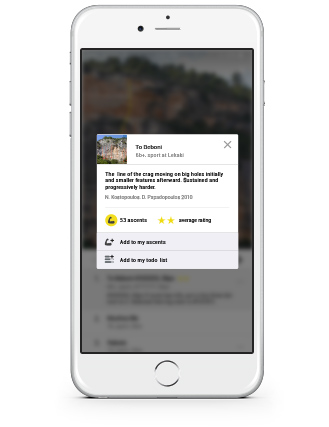 28300 climbing routes with high-quality topo images and detailed descriptions from Fontainebleau
The subscription also includes access to other 3283

Premium

crags around the world
Find crags and boulders with ease using in-app GPS
Use topos even when there's no Internet connection