Tautavel is a great place for Mediterranean-style rock climbing. It's not far from Catalunya, so it feels a bit like it. You'll encounter a diverse range of styles, from compact slabby limestone to challenging tufa routes and overhanging climbs. The quality of the climbing is exceptional. Whether you're in the 6th or 7th grade, there's an abundance of routes to explore. Additionally, for those seeking a challenge, there are approximately 50 climbs rated from 7c+ up to 8c+. You'll find the equipment here is top-notch, similar to what you'd expect in Spain. However, some older crags, like Vingrau, offer a more adventurous and challenging bolting experience. For those with an adventurous spirit, Vingrau also provides opportunities for multi-pitch climbing and trad climbing. While we refer to it as the Tautavel area, it's essentially the Perpignan area, with Tautavel at its heart. This charming village is nestled in a serene valley, only 30 minutes away from the sea. It's situated in the pre-Pyrenees, offering breathtaking views of Le Canigou, the highest peak in the Eastern Pyrenees. Tautavel is conveniently located for climbers, with sectors within walking distance and others just a 10-30 minute drive away. The Rivesaltes Airport in Perpignan is the closest airport, a mere 20-minute drive from Tautavel. If you prefer to travel by train, Perpignan is the destination. For those coming by car, take the A9 towards Spain and exit at Rivesaltes, a straightforward 20-minute drive to Tautavel. This area is incredibly family-friendly, offering climbing grades suitable for climbers of all levels, making it an excellent choice for families. Beyond climbing, there's a wealth of activities to enjoy. Relax by the Gorges des Gouleyrous river within the valley, or venture to the nearby sea (only 30 minutes away) for windsurfing, kitesurfing, and more. Leucate's Téleski Nautiqe (45 minutes away) offers waterskiing and wakeboarding. Fun water parks are also in close reach. For adventure seekers, Galamus offers via ferrata and canyoning. You can even book these activities with Nico Rousson, a local expert who is involved in bolting and inspections. Cultural enthusiasts will appreciate visits to the prehistoric museum in Tautavel, exploring Medieval villages like Villefranche-de-Conflent, and wine-tasting on rest days. Climbing is possible throughout the year, with considerations for weather. Summers can get hot, but there are north-facing climbs to provide respite. Winters can be chilly, but many crags are south-facing. Spring and fall are often regarded as the best seasons, but don't discount sunny winter days for excellent climbing conditions. All your needs can be met in Tautavel and Vingrau, including groceries, bakeries, cafés, restaurants, and more. You can find all the essential information for your stay on the Tautavel website. If you require a broader shopping experience, Claire, located just 20 minutes away, boasts a shopping area with major retailers like Decathlon and Carrefour, along with other international chains such as McDonald's, Burger King, and more.
Tautavel topos
988 routes in 10 crags
---
Photos
95 photos shared by 2 climbers
---
Travel info
Best season
Spring and fall
How to get there?
Easily reachable by train, car and plane.
Where to sleep?
Plenty of options in Tautavel and Vingrau
Other activites
Hking, via ferrata, windsurfing, kitesurfing, prehistoric museum...
---
Get Tautavel climbing guide to your smartphone
The most detailed climbing guide from Tautavel starting at €2.91 / month.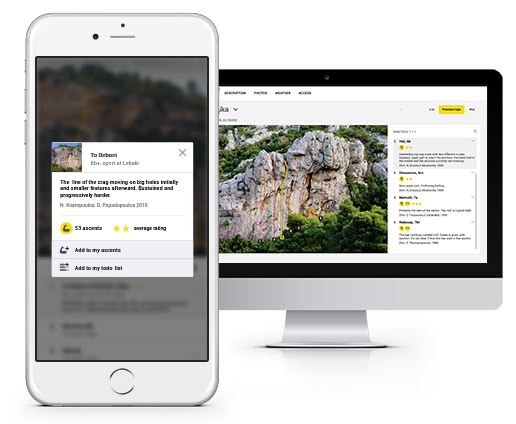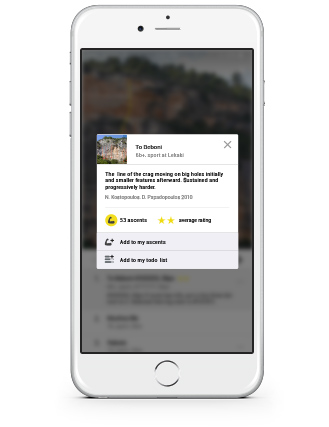 934 climbing routes with high-quality topo images and detailed descriptions from Tautavel
The subscription also includes access to other 3427

Premium

crags around the world
Find crags and boulders with ease using in-app GPS
Use topos even when there's no Internet connection