Sport Climbing in Nafplio, Greece
Nafplio is a seaport town in the Peloponnese in Greece that has expanded up the hillsides near the north end of the Argolic Gulf. Nafplio offers sport climbing for beginners and intermediate climbers next to one of the most beautiful cities in Greece. All the climbing sectors are right next to the sea and after the climbing you can enjoy the rest of the day at the beach. In addition Nafplio is a perfect place for families and the approaches are short and easy. When it comes to the gear needed, a 70m rope and 16 quickdraws will get you to the top. When you want to combine relaxed sport climbing, sea and cultural activities, Nafplio is your choice.
Nafplio topos
161 routes in 4 crags
---
Photos
20 photos shared by 4 climbers
---
---
Travel info
Best season
Autumn, spring and winter.
How to get there?
Easy to reach with a car, also possible with a bus. In addition you can walk to the crags from the city, but it's rather far.
Where to sleep?
You can find all accommodation types in Nafplio. If you travel in high season it's good to book early.
Other activites
Water sports at the beach of Karathona, Guided climbing, hiking, river trekking, horseback riding tours, yoga on the beach.
---
Get Nafplio climbing guide to your smartphone
The most detailed climbing guide from Nafplio starting at €2.91 / month.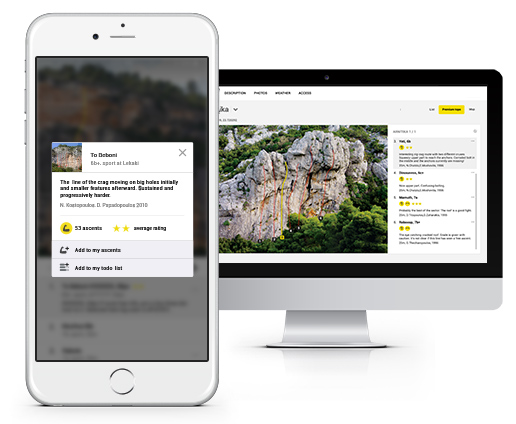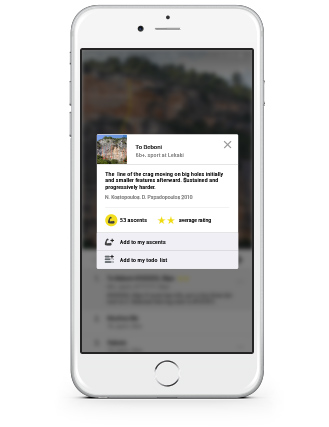 161 climbing routes with high-quality topo images and detailed descriptions from Nafplio
The subscription also includes access to other 2956

Premium

crags around the world
Find crags and boulders with ease using in-app GPS
Use topos even when there's no Internet connection