Climbing in Gran Canaria | Destination Info and Guidebook
Gran Canaria might be mostly known as a winter holiday destination for beach lovers, but besides this the island has a lot to offer for climbers. There's hundreds of of sport climbing routes, bouldering and trad which will easily fill your days there! The highest point of the island lies at 1948m and the mountain is very high in relation to its perimeter. This results in two very different areas in terms of weather: the humid and windy North and the dry and calm South. The climbing areas can be found in the North, South and middle of the island and due to the relatively small size of the island it's possible to visit many different crags during one trip. Nevertheless, it's good to check the crags you want to visit prior booking your accommodation in order to optimise the driving time. Gran Canaria suits climbers in all levels and the style varies from vertical basalt walls with long fingery routes to overhangs with big pockets and juggy ledges. When it comes to the season, during summer it might get too warm for climbing but the island has almost bullet proof weather in winter. Rain is rare and the temperatures stay pleasant at around 10-18 degrees. Gran Canaria is also a great place for families. Especially areas like Sorrueada and Tamadaba are fantastic for the whole family. There's also bouldering in the island, and especially Mogan offers plenty of problems in different grades and styles. You'll find the community topos of Mogan by typing the name in the search bar! When having a rest from climbing there's plenty of other activities and sightseeing to explore. To name a few, the island offers great opportunities for mountain biking, surfing and hiking. From the main city, Las Palmas, you can find some great restaurants and shopping malls, as well as climbing shops. If you're into long sandy beaches, then the South is the best place to head to. These topos are made by local climbers including Roque Lorenzo, Xerach Augusto, Adrian Marrero, Iris Pasamón, Norberto Cabrera and Christian Fernández del Valle. By using these topos you support the local climbing development and (re-)bolting in Gran Canaria.
Gran Canaria topos
381 routes in 11 crags
---
Photos
59 photos shared by 15 climbers
---
Travel info
Best season
Besides summer it's possible to climb in most of the crags year round.
How to get there?
There's direct flights from all capitals in Europe to Las Palmas airport. In the island it's good to rent a car.
Where to sleep?
Las Palmas for the North crags, Playa del Inglés for the South crags and Tejeda for the center of the island.
Other activites
A lot of other outdoor sport opportunities including paragliding, diving, mountain biking, surfing and hiking.
---
Get Gran Canaria climbing guide to your smartphone
The most detailed climbing guide from Gran Canaria starting at €2.91 / month.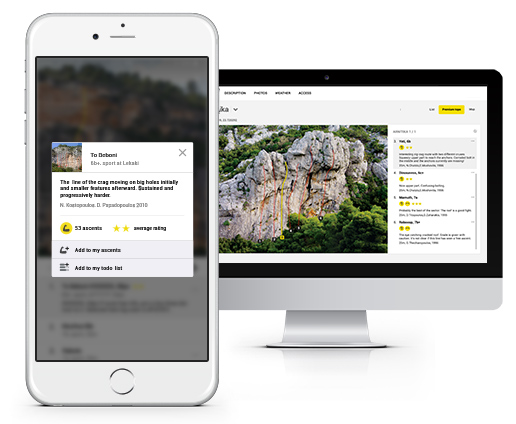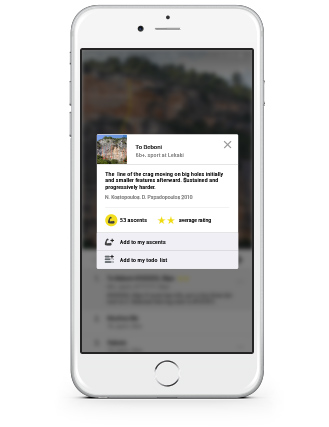 381 climbing routes with high-quality topo images and detailed descriptions from Gran Canaria
The subscription also includes access to other 2853

Premium

crags around the world
Find crags and boulders with ease using in-app GPS
Use topos even when there's no Internet connection