Dai Koyamada repeats The Story of Two Worlds
Dai Koyamada has just managed to send the low start of Story of Two Worlds 8C in Cresciano, Switzerland.
The lined was opened by David Graham in 2005. It saw its first repetition by Paul Robinson last year and now Dai has taken the third ascent.
If I am not totally wrong Mr. Koyamada has been trying the line for some time over the years so a huge congrats is in place.
The Story adds a difficult start to Toni Lamprecht's The Dagger 8B+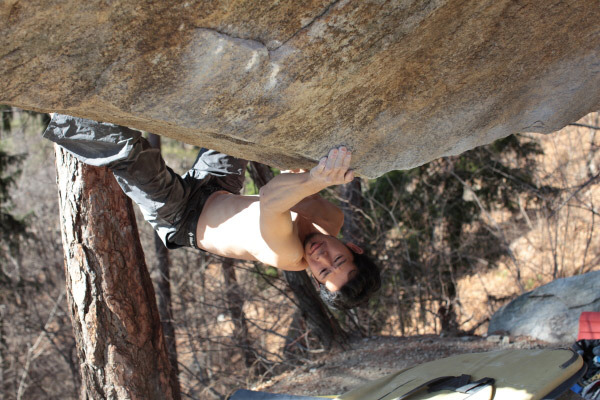 Photo Courtesy of Ikuko Serata
UPDATE: So there is more to the Story as some of you have read over the Internet. So just to clear some facts about Dai's ascent.
A few years ago Dai thought he had climbed the Story but unfortunately he had started one move in as he didn't know where the start actually was. So this time he started from the lowest holds "and the most logical place for a lowstart" with both hands on a big undercling. Adding a move and some footwork and difficulty to the original start that Dave Graham did.
Toni Lamprecht (who did the FA of the Dagger" did a logical sds as well but starting on the right side of the boulder instead of the left like Dave and now Dai. The Lamprecht-SDS is still unrepeated.
Source: Martin Keller