10-year-old Brooke Raboutou sends first 8A, Une Pointe de Bleau dans un Hueco, in Hueco Tanks
Robyn Erbesfield-Raboutou confirms that her 10-year-old daughter, Brooke Raboutou, sent her first 8A, Une Pointe de Bleau dans un Hueco, during their Thanksgiving trip to Hueco Tanks. Robyn said her son Shawn, as well as two other kids on Team ABC, did the same 8A.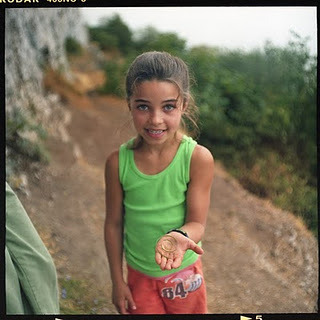 Garrett Gregor, assistant coach for Team ABC, also did the same climb and comments on the sends of the kids on his scorecard on 8a.nu, "Hard lotsss of tries - Shawn, 2 tries; Brooke, 3; Megan - flash... uhwhhattt?!"
Megan refers to 13-year-old Megan Mascarenas, who has been tearing up the competition and outdoor climbing scene for quite some time now.
According to the scorecards of people who have climbed Une Point de Bleau, it is soft and short for an 8A, however all of those people except one stuck with the 8A grade.
Congrats to Brooke and the rest of Team ABC!
Photo source: http://raboutoufamily.blogspot.com/