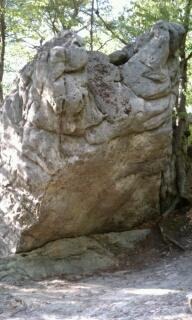 1
2
3
The Standard American Accent Boulder 1 / 1
Start on pockets on the left arete. move up and right using pinches and slopers. Topout is tall.

Stand start (may need to stack pads for shorter climbers to reach the starting holds), left in obvious round pocket out left, right in sidepull pocket, climb straight up and top out. Video Link:

http://vimeo.com/11558349

Stand start on the right arete. Climb all the way to the top, top out at highest point on boulder.