Fontainebleau first timer
Got back from my first ever trip to Fontainebleau. What a place! The amount of climbing was overwhelming. The smooth sandstone with ridiculously good friction felt nice after granit and plastic in particular. I've seen Albarracin, Pfaltz and Red Rocks (not to forget E75, the only sandstone spot in Finland :-)) but so many quality boulders in a nice setting made a very special impression. Have to get back there, hopefully many times!
As nice as the climbing there could get, I wasn't prepared for one thing. First couple of days were ok but on a third day, a deep throbbing started to creep into elbows. It got only worse and from the next day onwards, it was possible to climb only with heavy doses of painkillers. Never before have I faced similar pain when climbing. I soon discovered that I had gotten an ailment familiar to many first timers (let's call it 'Font syndrome') caused by continuous compression moves on slopers. The climbing differs from pulling down 'ordinary' holds and puts different kind of strain to elbows.
Only couple of very easy climbs per day for the rest of the trip and that was it. Have to remember and prepare for this next time. Living is learning...
Despite of all the whining, Fontainebleau turned out to be a place well worth the hype and even more, at least to me. Even so, that it makes me feel slightly embarrassed to admit that I haven't been there before. If you like bouldering, go there if you already haven't!
Johannes on 'La Baleine' (7a/+), Petit Bois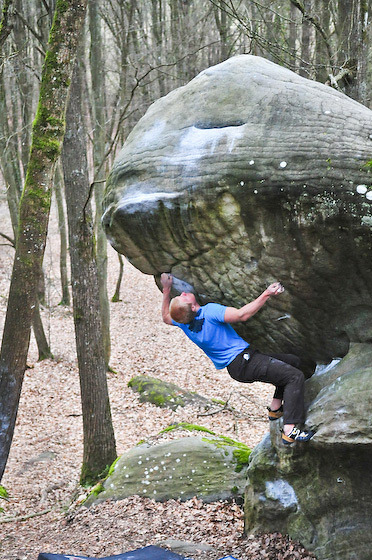 In flames by the quality of this easy highball at Elephant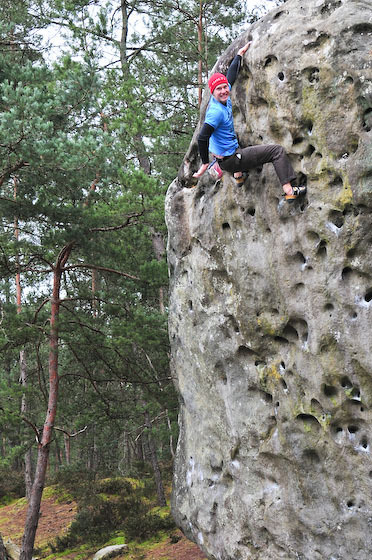 Smooth and sticky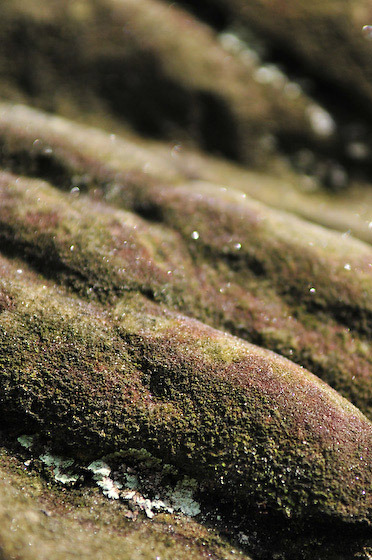 'Le Coeur', Elephant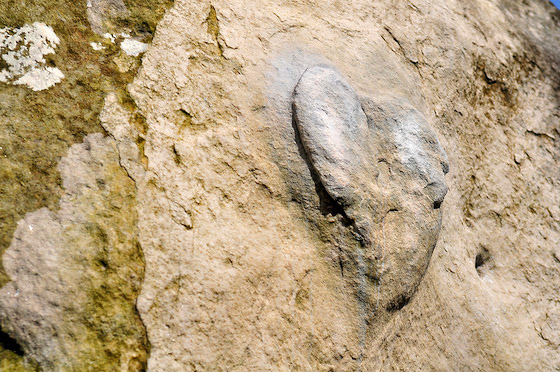 'Corto Maltese' (7a), Bas Cuvier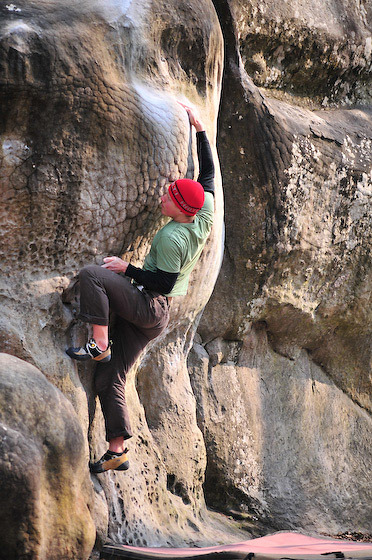 'Super Bouze' (7a+), Bas Cuvier. Hard even to get your feet off the ground.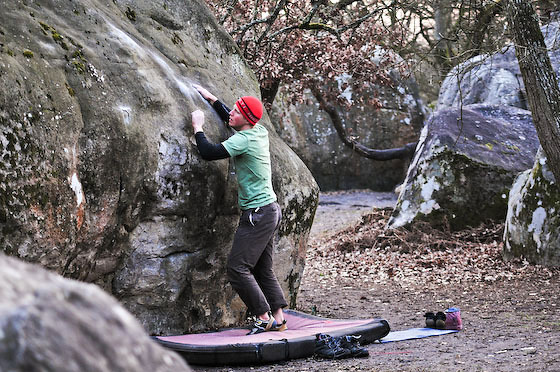 'Le Piano à Queue' (6b), Apremont. A classic mantle.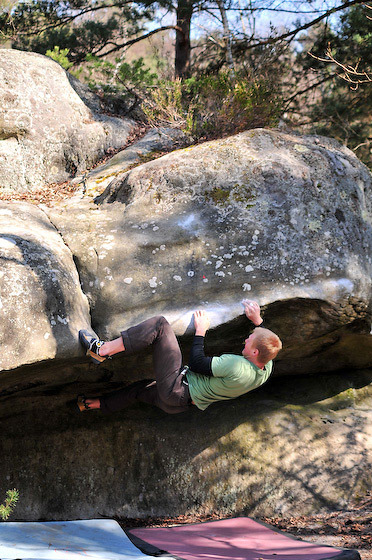 'Egoiste' (7a), Apremont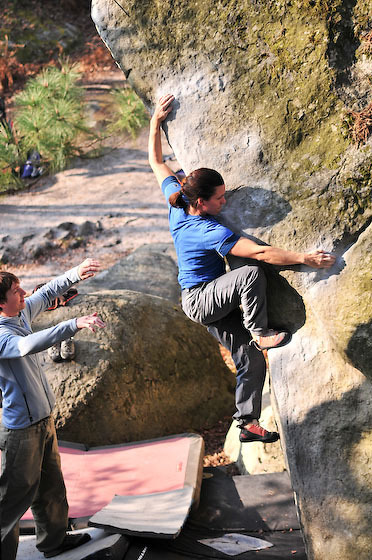 'A Bras Plat a Bras' (6c), Cuisinière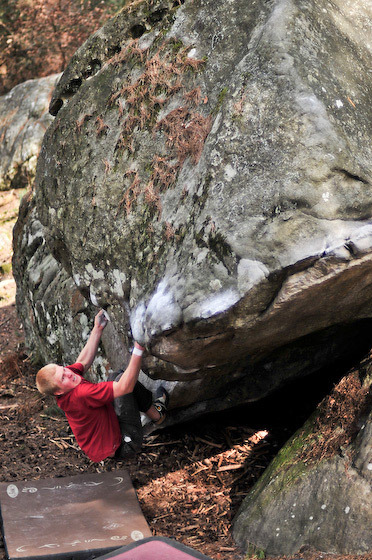 Bob on 'La Crevette', Bas Cuvier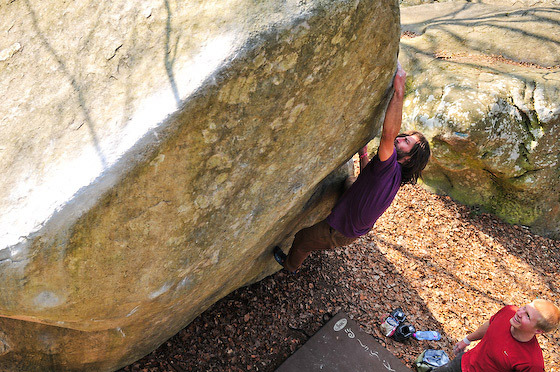 'Hélicoptère' (7a), Bas Cuvier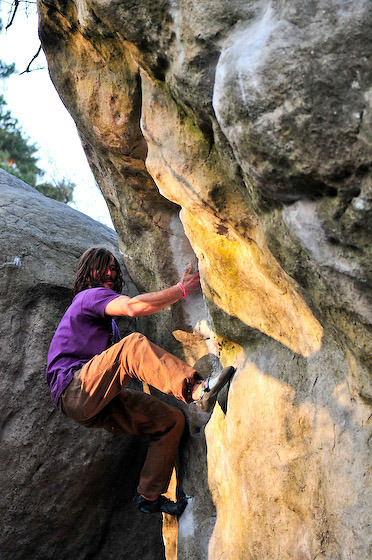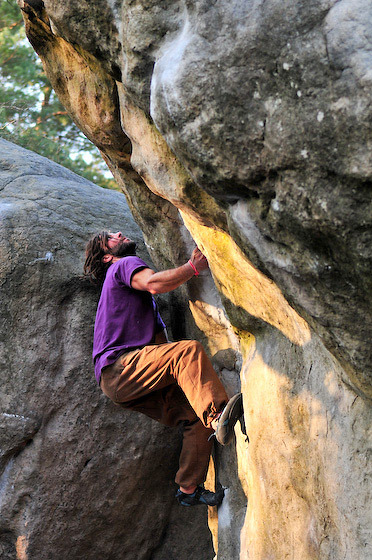 Dusk at Bas Cuvier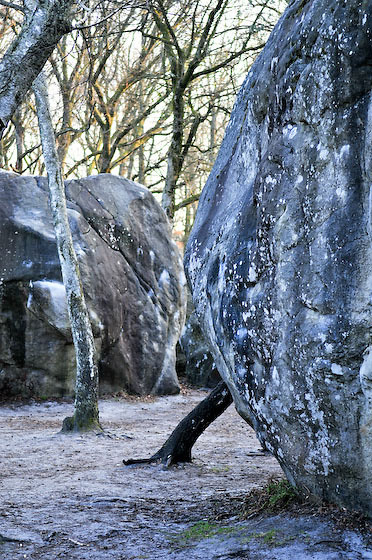 Juike, the happy climber!