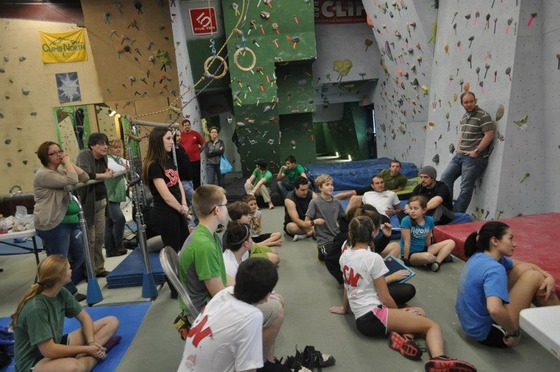 Its about to be that time of the year for me where it is comp after comp, week after week. This past weekend, I kicked things off with Climb Norths spring competition. They decided to move things up this year due to several kids headed to divisionals for the ABS and they wanted to give them another competition as practice.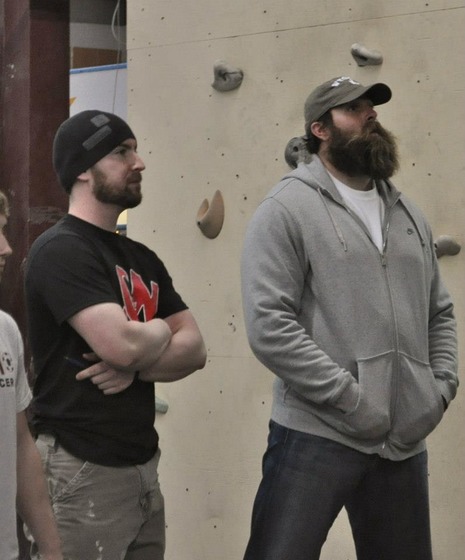 Justin trying not to cry next to Brett Keisel.
This was just a small competition with mostly local climbers however. Among the visitors were Aaron (from the other climbing wall in Pittsburgh) and Phil (visiting home from Hawaii). Then of course Joey and Hayley from Climb North were there and several other home gym climbers. Brett Keisel of the Pittsburgh Steelers (NFL Team for the international who I am pretending actually read this blog) also made an appearance and his beard alone would have won the competition if he were to have entered. Jackson, an up-and-coming kid from Ohio showed up too to kick some butt in his division.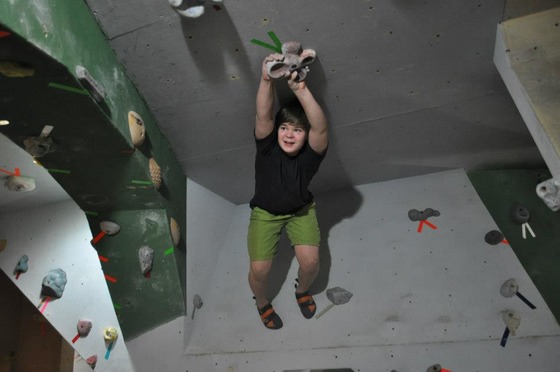 Jackson
During the actual competition, true to climb north style, the problems were hard and sandbagged as all hell. The hardest send of the comp was a V4? In the real world, it would have been a slopey problem somewhere around V7 with the beta ended up being used. The intended beta is still way harder. Many of the problems set will remain unsent for a while as well. The style of the gym is also atypical of most gyms these days. A lot more emphasis is placed on delicate power. If I got to Sport Rock, the harder problems usually have big moves with crazy core tension. Here it is make the dead point to crappy holds and hope you aren't sweating. There were two really hard problems, one pictured with Joey on the "V" wall and another on the 20 degree layback with black tape. I don't know which one is harder, but both were pretty crazy.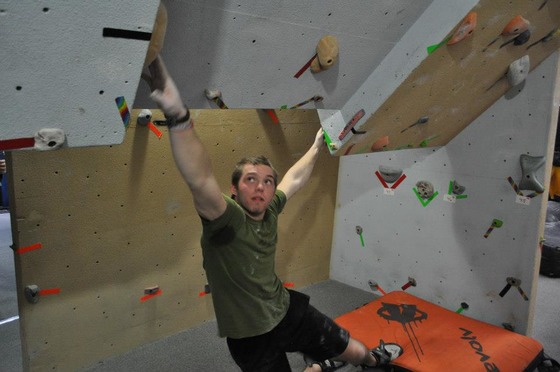 Joey on the really hard "V" wall problem.
Phil, Aaron and I pretty much stuck together for the competition and all worked the same problems. It was a fun time and I'm glad they both came out for the competition.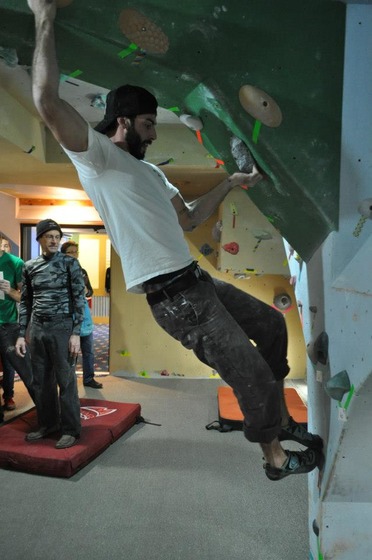 Phil who got agonizingly close on this problem several times but never sending.
In the end, Hayley took the women's 1997 youth football trophy home and I grabbed the 1999 one, both from Justin's closet for Top Male/Female climber awards.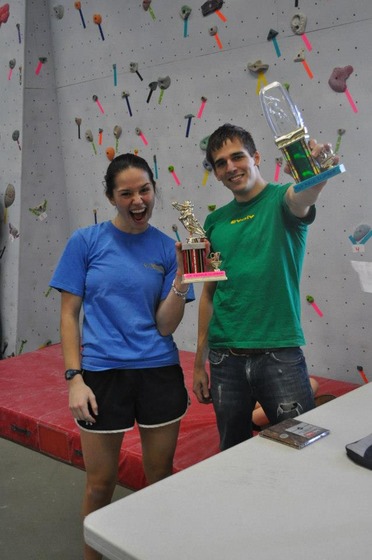 All photos courtesy of Tim and Justin's cameras. Brett Keisel's beard is property and trademark of Brett Keisel.